Missing teeth can lead to serious complications later down the road, such as a misaligned bite, crooked teeth, and bone deterioration. Luckily, patients have more tooth replacement options than ever before. At Tualatin Family & Cosmetic Dentistry we specialize in several full-tooth restorations, including dental implants. Dental implants have revolutionized the way we treat tooth loss. Thanks to their many benefits, it's no wonder that implants have become the industry standard for tooth replacement. An implant-supported restoration is the next best thing to your natural teeth!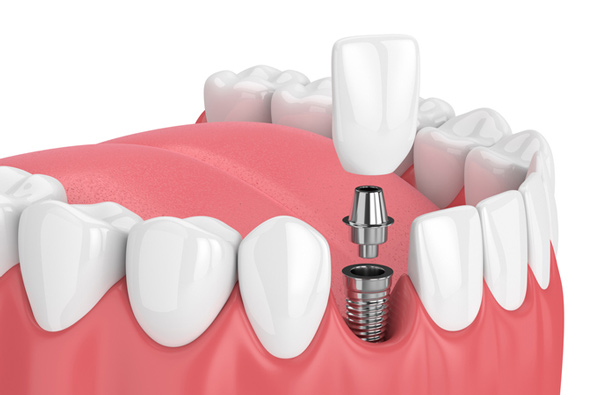 Even if you need several teeth replaced, you could still be a candidate for dental implants. We here at Tualatin Family & Cosmetic Dentistry are experts on single tooth implants, as well as multiple tooth implants. We would love to discuss your options with you.
Learn more about the your options.
ALL-ON-4® TREATMENT CONCEPT
Up until recently the only real choice for someone who needed a whole new set of teeth was removable dentures. Here at Tualatin Family & Cosmetic Dentistry, we are glad to let you know that there is now another alternative. The new option is known as All-on-4 Treatment Concept.
Learn more about the advantages of the All-on-4 Treatment Concept.
If you do not want to deal with dentures, then teeth in a day may be the solution for you. You might wonder if you will have a new set of teeth in one day. The answer is both yes and no.
Here is how it works.
DENTURES TO IMPLANT BRIDGE
DENTURES TO IMPLANT BRIDGE
The placement of an artificial tooth makes a difference. We could suggest an implant, or we might suggest a different type of replacement. This will give you a new tooth that is artificial, so no one will know that you are missing one or more of your natural teeth.
Read more about the procedure.
Tooth socket grafts will help you to have enough bone for a dental implant. When you lose a tooth, you will also start to lose bone. Your body will start to think that you do not need as much bone there any longer and will start to absorb the bone into your body.
Learn more about the importance of tooth socket grafts.
If you need to replace a tooth, but there is not enough bone in your jaw, then bone regeneration could be the answer. It is a way to make sure that you have the right amount of bone for the procedure.
Read more about bone regeneration.
With a gum graft, we will need to take tissue from one part of your mouth and graft it to the area of your gums that is receding. We will often take the tissue from the roof of your mouth.
Read more about gum grafts.
SCHEDULE A CONSULTATION APPOINTMENT TODAY!
You, too, could experience the wonderful benefits of dental implants! Call (503) 878-7474 to schedule your consultation appointment today!