All-On-4® Treatment Concept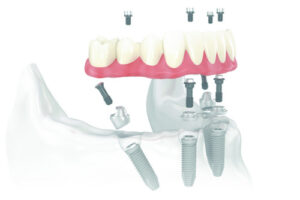 A very common condition in the elderly is loss of teeth, which can be a result of several factors, including age, poor oral hygiene, dental caries, or terminal dentition. The edentulous condition hurts your oral health and quality of life. With the All-on-4 Treatment Concept, we at Tualatin Family & Cosmetic Dentistry can now fabricate natural-looking prostheses that can replace your lost teeth, guaranteeing you improved quality of life.
WHAT IS THE ALL-ON-4 TREATMENT CONCEPT?
The All-on-4 Treatment Concept refers to all prosthetic teeth being supported on four implants on the upper or lower jaw. This is a surgical technique that allows total rehabilitation of completely edentulous patients or patients with severely damaged and compromised teeth.
COMPARISON BETWEEN ALL-ON-4 TREATMENT CONCEPT AND DENTURES
Traditionally, the treatment for partial or complete edentulism has been conventional dentures. However, many clinical studies have shown that people with dentures have shown only slight improvement in the quality of life as compared to patients who have had dental implants.
Some of the most common reasons for dissatisfaction among patients with dentures are:
Pain and discomfort.
Poor denture stability.
Limited movement of the tongue.
Reduced bite force.
Difficulty in chewing and speaking.
Reduced oral sensory function.
Frequently broken or damaged dentures.
Research shows that artificial teeth supported by osseointegrated implants result in a significant improvement of patients' quality of life when compared with regular dentures.
HOW DOES ALL-ON-4 TREATMENT CONCEPT WORK?
When it comes to completely edentulous patients, regular dental implant treatment is almost impossible due to severe bone resorption and decreased density of the jawbone. If this is the case with you, you will need to undergo complicated procedures to get an implant. These procedures include bone grafting and alveolar nerve transposition in your jaw. The All-on-4 Treatment Concept provides a solution for such conditions.

This method requires embedding four implants in each arch, with the two posterior implants placed vertically and the two anterior implants placed diagonally, typically at an angle of 45 degrees.

The tilted angle of the implants allows for the placement of longer implants and provides anchorage to the bone. It also eliminates the need for jawbone grafting to build up the bone structure, as the tilted implant offer increased stability.
ALL-ON-4 TREATMENT CONCEPT RECOVERY TIME
Most people are well enough to go to their office and participate in routine activities after 3 or 4 days of rest. They will also experience some pain in the first few days of the surgery, which can be treated with over-the-counter pain medication.

For the first few months, you will have to consume soft, liquid diet like applesauce, broth, pudding, purees, and ice-cream. As your gums heal, you can start with soft solid food like slow-cooked veggies. After 6 to 9 months, your gums will be completely healed, and we will call you again to view your progress.
SUCCESS RATE OF ALL-ON-4 TREATMENT CONCEPT
The All-on-4 Treatment Concept shows a 98 percent success rate at the implant level, five years after the procedure.

At Tualatin Family & Cosmetic Dentistry, we recommend the All-on-4 Treatment Concept. Dr. Emerson Rowley, DMD will take into account the quality of your bone, your dietary and oral hygiene habits, the length of the implants and other factors before deciding on a treatment plan for you. Call us at (503) 878-7474 to schedule an appointment with us today.